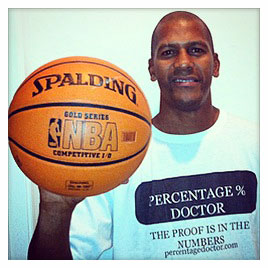 Glad your curiosity peeked enough to stop by; now that you are here let me brief you on what it is I do. I am Dennis Jefferson AKA "The Percentage Doctor."
"The Percentage Doctor" is derived from my ability to increase a player's free throw/shooting percentages. What qualifies me is I am a personal basketball trainer, a former AAU coach and I've also played basketball collegiately.
My background is comprehensive, encompassing all areas and aspects of basketball primarily focusing on basic fundamentals. Currently I am offering my expertise in improving free throw and shooting percentages.
My methods have great results because I am able to get a player to achieve a Consistent and Repetitive stroke. My clients have made improvements and gained Confidence in as little as one hour.This in turn gives the player clear Understanding where the Doctor can take their percentages. My technique simply focuses on balance/weight transference and a few other tidbits (can't share them all). My goal is to provide high-quality precision with every stroke you attempt.
I welcome the opportunity to earn your trust and deliver to you the best service in the industry.
I am committed to meeting the needs of my clients. As a result, the majority of my business is from repeat clients and referrals.
PROFESSIONAL REFERENCES: Jacque Vaughn, current head coach of the Orlando Magic! Reggie Brown, NBA agent with Priority Sports! Jeremy Shulman, head coach Eastern Florida State College, Rodney Perry, head coach Avila University